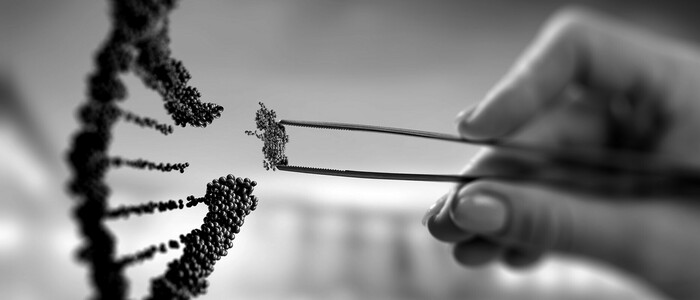 Gene Therapies
The aim of gene therapy is to fix an inherited genetic defect. Certain diseases are triggered by genetic disorders that result in non-functional proteins. Treatments such as enzyme replacement therapy remedy this problem. Certain virus types such as adeno-associated viruses or retroviruses act as messengers by delivering corrective genetic material into cells where it is read and implemented.
In conventional gene therapies, a gene is inserted either episomally ("not integrating in the genome") or randomly into the genome. In gene editing, the patient's genome is cut at precisely the right location and corrected or embellished. A variety of "gene scissors" (endonucleases) are used for this purpose, including CRISPR, zinc finger nucleases, meganucleases and TALEN (transcription activator-like effector nuclease). An advantage of this approach is that the integration of genetic material means that only one treatment is required for a potential cure and therefore the long-term durability of treatment is not subject to controversy.
After decades of research, several gene editing techniques have achieved a market breakthrough. CAR T-cell therapies make use of the fact that our bodies are trained to automatically attack pathogens or cancer cells. The basic aim of this approach is the genetic reprogramming of T-cells. T-cells are taken from the patient, equipped with the gene for a specific artificial (chimeric) receptor in a laboratory and then replicated. These new CAR-T cells are then infused back into the patient, where they track down the defined antigens on cancer cells and initiate their destruction. Pioneers in the field of CAR-T therapy include our former portfolio investments (acquired in 2018 by Celgene) and Kite Pharma (acquired by Gilead in 2017).
Second-generation CAR-T therapies use allogeneic T cells that have been modified using gene editing technology. Allogeneic cells from healthy donors have several advantages over patient-derived T cells: they can be mass produced more quickly and stored and are thus immediately available when needed, and they show higher efficacy. CRISPR Therapeutics, a current portfolio holding, has developed a CRISPR/Cas9-edited CAR-T cell therapy based on a novel genome editing process. In its initial clinical trials of CTX110 in lymphoid malignancies, some patients demonstrated a complete response to treatment twelve months after a single infusion.
Another novel CAR-T approach uses clonal master induced pluripotent stem cell lines (iPSCs). These iPSCs provide a platform from which natural killer cells and T cell products can be produced on a mass scale in the laboratory. Fate Therapeutics is a pioneer in this space that has developed a proprietary iPSC platform for cancer immunotherapies. Its two lead programs, FT516 and FT596, are suitable for combination with FDA-approved tumor-targeting antibodies such as Rituxan.
Medical experts believe that the new gene therapy approaches will be useful in treating a growing number of diseases. Since tumor growth is often attributable to genetics, approximately two-thirds of all gene therapies are being tested for use in cancer medicine, according to recent estimates of the Journal of Gene Medicine. Other therapeutic areas are monogenic disorders caused by a single gene defect (>11%), infectious diseases (>5%), cardiovascular diseases (>5%) and neurological disorders (>1%).