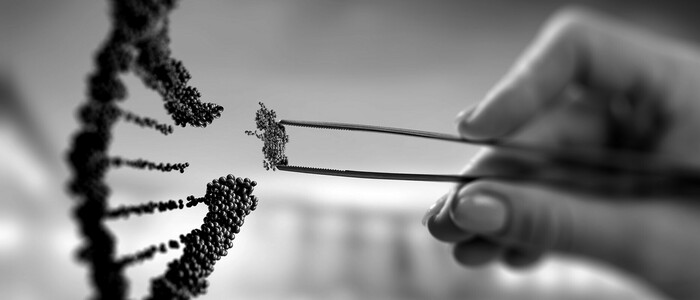 Gene Therapies
Gene therapies aim to provide a permanent cure rather than just managing a disease. Specifically, the goal is to fix an inherited genetic defect. The trigger of disease is an error in the genetic information that may for instance cause a certain protein to be non-functioning. Treatments such as enzyme replacement therapy remedy this deficiency. Certain virus types such as adeno-associated viruses or retroviruses act as messengers by inserting the desired gene into the cell so that the information is read and implemented.
In conventional gene therapies, a gene is inserted either episomally (not integrating in the genome) or randomly into the genome. In gene editing, the patient's genome is cut at precisely the right location and corrected or embellished. A variety of «gene scissors» (endonucleases) are used for this purpose, including CRISPR, zinc finger nucleases, meganucleases and TALEN (transcription activator-like effector nuclease). An advantage of this approach is that integration of the genetic material means that only one treatment would be required for a potential cure, so a treatment's long-term sustainability or tolerability would not be an issue.
After decades of research, a variety of gene therapy approaches have made it to market. CAR-T-cell therapies make use of the fact that our bodies are trained to automatically attack pathogens or cancer cells. The basic aim of this approach is the genetic reprogramming of T-cells. T-cells are taken from the patient, equipped with the gene for a specific artificial (chimeric) receptor in a laboratory and then replicated. These new CAR-T-cells are then infused back into the patient, where they track down the defined antigens on cancer cells and initiate their destruction.
Pioneers in the field of CAR-T therapy include our former portfolio investments Juno Therapeutics (2017 acquired by Gilead) and Kite Pharma (2018 acquired by Celgene). Kite received US regulatory approval for its Yescarta product in 2017 and EU approval in 2018. While T-cells are engineered in these CAR-T therapies ex vivo, in vivo gene therapies are delivered directly by the intravenous or intrathecal route. BB Biotech opened a position in Avexis, an in vivo gene therapy company, in September 2016 that yielded a handsome return. The US company, which is working on a gene therapy to permanently cure spinal muscular atrophy, was acquired by Novartis in April 2018.
Medical experts believe that the new gene therapy approaches will be useful in treating a growing number of diseases. Since tumor growth often has genetic causes, approximately two-thirds of all gene therapies are being tested for use in cancer medicine, according to recent estimates of the Journal of Gene Medicine. Other therapeutic areas are monogenic disorders caused by a single gene defect (>11%), infectious diseases (>5%), cardiovascular diseases (>5%) and neurological disorders (>1%). Many inherited diseases have a prevalence of 1 000 to 10 000 patients. Three gene therapies are currently approved in the USA and four in the EU. Approximately 2 800 such therapies are undergoing clinical trials worldwide. More than half of these candidates are in the first phase of clinical development, with only a few being tested in pivotal regulatory studies. The time-consuming and costly treatment process, which generally involves prolonged hospitalization, and the small patient population have their price. As an example, treatment with Luxturna, which transfers a functioning version of the RPE65 gene into the retina, comes with a price tag of USD 825 000 per patient per year.